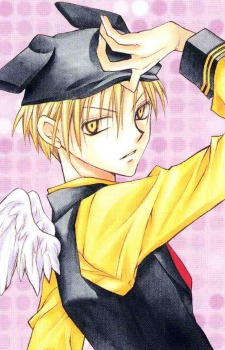 Izumi Rio (いずみ・リオ) was the partner of Yui Meroko on Mirumeiku.
but when Takuto came, he became the responsible of him. Meroko, who love him at that moment, ask him to refuse it and be partner with her forever.
but Izumi tricked her. so Meroko is the one who became the responsible of Takuto on Negiramen.
when Negiramen came to see Mitsuki. Meroko called Izumi to come because Takuto was too close with Mitsuki and Meroko didn't like it.
when Izumi came with Jonathan as Yaminabe. he made Mitsuki lose at the voting for a shampoo CM.
when Meroko regretted it and told Mitsuki about Izumi. Mitsuki went to find Izumi.
Izumi almost take Mitsuki's life to hold it until the death day. but Takuto stopped him.
and he also appeared the other day. the day when Mitsuki noticed the relationship between Meroko and Izumi. and she followed Izumi.
Izumi asked Mitsuki about 'why people who committed suicide be a shinigami?'.
Mitsuki answered,'it's for give a chance'
Izumi said that he also want to hear Mitsuki's song.
started from that day.Izumi became their alliance and support Mitsuki.