Mistress☆ Fortune (絶対覚醒天使ミストレス☆フォーチュン, Zettai Kakusei Tenshi ☆ Misutoresu Fōchun, lit. "Absolute Awakening Angel ☆ Mistress Fortune") is a magical girl manga by Arina Tanemura. The series ran for three chapters in Ribon from July to September 2008.[1] In December 2008, the manga was published in one volume by Shueisha.[2] Viz Media licensed the series for North America.[3]
Kisaki Tachikawa, a fourteen-year-old with psychic powers, works for the PSI to fight aliens. She falls for her partner Giniro Hashiba, but has a hard time getting close to him thanks to the PSI's rule that operatives cannot get involved.[4]
Summary
[
]
Characters
[
]
Main article:

List of Mistress Fortune characters
Media
[
]
Manga
[
]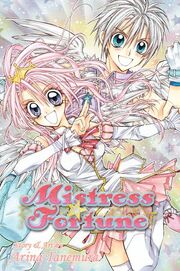 Main article: List of Mistress Fortune chapters
Arina Tanemura began Mistress Fortune in the July 2008 issue of Ribon. She also ended her long-running manga, The Gentlemen's Alliance Cross in the same issue.[5][6] Tanemura ended Mistress Fortune after three chapters in September 2008.[1] Shueisha published the manga in one volume on December 25, 2008.[2] The manga was also published in North America in February 2011 by Viz Media.[3]
Vomic
[
]
An internet radio drama (also known as a "vomic" for voice and comic) was released in four parts covering the first two chapters of the series. Shueisha initially announced their plans to release the audio drama on their S-Raji site in the September 2008 issue of Ribon.[1][7][8]
References
[
]
External links
[
]
See also
[
]