Sakura Hime: The Legend of Princess Sakura (桜姫華伝, Sakura Hime Kaden) is a manga series written and illustrated by Arina Tanemura. It began serialization in Shueisha's Ribon magazine in November 2008.[1] Tanemura concluded the series at twelve volumes.[2] Viz Media licensed the manga in North America.[3]
The series is set during the Heian period of Japan[1] and takes inspiration from the Japanese fable, The Tale of the Bamboo Cutter.[4]
Characters
Edit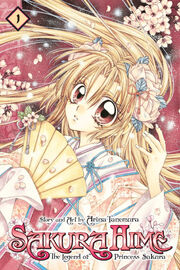 After concluding Mistress Fortune in August 2008, Tanemura launched Sakura Hime in the December issue of Ribon.[1] Following Fudanjuku Monogatari in 2011, she ended her exclusivity contract with Ribon and announced that Sakura Hime would be her last for the magazine.[5] Tanemura ended the series in the January 2013 issue of Ribon.[6]
The manga was collected into twelve volumes by Shueisha.[7] Viz Media licensed the series for North America.[3]
Main article: Paint Ribon: Art of Sakura Hime Kaden
Tanemura published an art collection, titled Paint Ribon: Art of Sakura Hime Kaden, dedicated to the series in April 2009.[8] The book also features art from Phantom Thief Jeanne, Full Moon o Sagashite, and The Gentlemen's Alliance Cross, as well as a DVD with commentary from Tanemura.[9]
Sakura Hime was adapted into a four-part "vomic" (comic with voices) in April 2009.[10][11] It was followed by a second vomic, titled Sakura Hime Kaden Asagiri Yuki Den (桜姫華伝 外伝 朝霧雪伝, Sakura Hime Kaden Asagiri Yuki Den) in December 2010.[12]
References
Edit
External links
Edit